I don't usually write "race reports" for races I volunteer at. It occurred to me that I am usually back near the sweepers anyway, so a race report for this race is not that different from a race in which I was entered – except that I only ran half of it, but that was my assignment.

Ruck A Chuck is a tribute race to the old Rucky Chucky that was run on the same part of the course. The entire race is run on a portion of the Western States trail and it is a part I had not been on before. When my friend Paulo posted that he needed sweepers for the race, I jumped at it. Helen put together the volunteers and made sure that every section of the course was covered with sweepers, safety patrol, and aid station volunteers. Having run a few ultras in the last 5 years, I have come to greatly appreciate the volunteers that make everything work. I try to volunteer regularly to provide for others what so many have provided for me.
For those that don't know, aid stations are placed intermittently along the trail to provide hydration, food, and encouragement to the runners as they go through. Aid stations are generally every 2 – 10 miles, depending on terrain, heat, and access. Ultra runners make the best aid station volunteers because they speak the language of runners; they know what runners need and want, and how to encourage them on their way. An out and back course like this one provides the advantage of seeing each aid station twice. Volunteers say things like "see you on your way back," and " you'll be back here in a couple hours."
Safety patrol run with the runners, somewhere in the middle of the pack. They try to prevent the bonus miles created by wrong turns, provide encouragement to runners, and are there in case someone gets injured or sick.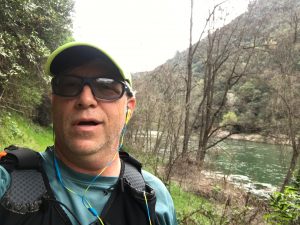 Sweepers follow behind the last runner. They make sure all the runners stay ahead of the cutoff time, let the aid stations know when the last runner has gone through, and pick up the flags and ribbons that mark the course. I'm usually back there anyway, so sweeping is a prefect responsibility for me.
Single Track Running has become my favorite race company. Paulo and his crew are ultra runners and they know what runners need during a race and when. Paulo is a race director who thinks like a runner, because he is one. Everyone on his team understands ultra running, from the elites to, well, me. Every event is well planned, challenging, and fun. Ruck A Chuck is no exception.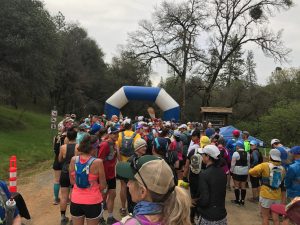 The race starts at the Ruck a Chucky trail head and heads down into the canyon on fire road. The first 3 miles go by pretty fast, since it is all downhill. I remember thinking that I didn't envy the runners who would be running back up this hill to the finish of their 31 mile race. I was moving easily at about 12 minute mile pace (mile 1 in 9 minutes – downhill) with the last couple of runners. One of those was Eileen Sanchez (married to my friend Ray Sanchez of Badwater and other 135 mile races fame). We hadn't seen each other for a while and stuck together until the first aid station, talking about running, racing, and how slow we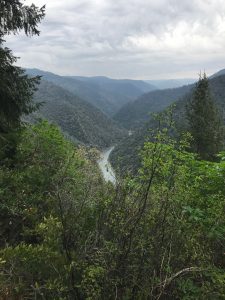 are. Right about here my Orange Mud Dual Quiver Vest snapped a strap and needed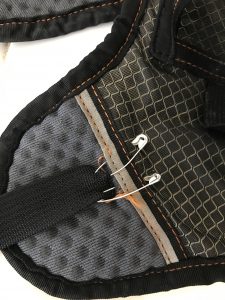 emergency repairs. Unfortunately, the repairs didn't hold and I ran the next 7 miles holding it with my left hand. There Mike helped me put it together. – Follow up: I shipped my vest to Orange Mud and they are stitching it up and reinforcing all the seems and sending it back – hopefully before my next race.
After the gate, the trail switches to single track, heading east along the side of the South Fork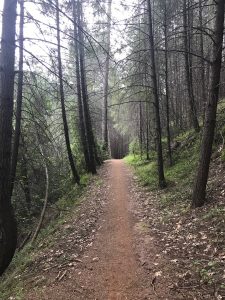 of the American River. It is some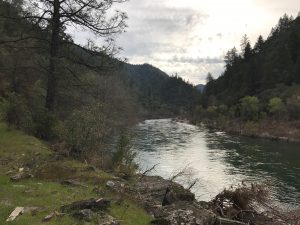 of the most beautiful scenery anywhere and I almost forgot that I was in a race. The trail is mostly up hill, but has plenty of ups and downs, so I could alternate with thoughts of "I wish I was running this the other direction" and "I'm glad I don't have to run back up this." There are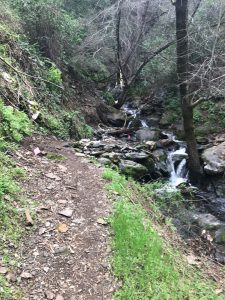 plenty of shallow water crossings and areas where the recent flooding has washed away parts of the trail.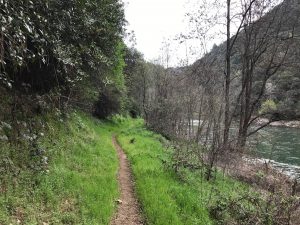 After the long climb to the second aid station, runners and sweepers alike enjoy some nutrition, topping off the water bottles. I hung out a little long with Mike and Chris at the aid station, but was still ahead of cutoff and behind the last runner. Leaving Cal 2 for the first time there is a gradual rolling downhill before a quick drop to the Cal 1 aid station. I saw one injured runner walking back up to drop. I checked on him and he was OK, but decided it was better to stop before his injury became worse. Shortly after that, I saw the first place male coming up the hill at about a 9min/mile pace. From there I turned into a cheer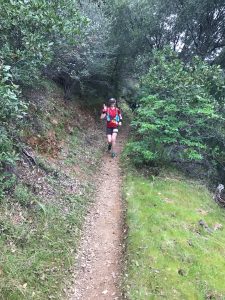 leader as I cheered on all the runners I saw coming back and gave them the trail. I was careful to avoid poison oak (there is plenty out there, but I seemed to miss it all). I saw more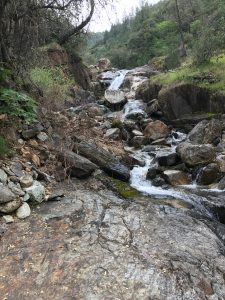 and more runners coming back, indicating that I was nearing the turn around point.
There's a slight climb from the Cal 1 aid station to the turn-around and a quick mile back to Cal 1 where I hitched a ride out with CJ. I saw the sweepers running the back half and the last two runners. No one got pulled today.
Truth be told, I think I might run this one next year, but I'll be back one way or another, as a sweeper or a registrant.