There is something about the smell of dirt and freshly mowed grass on a baseball field that always brings to my heart the feelings very similar to those only a first love can ever stir in one's soul.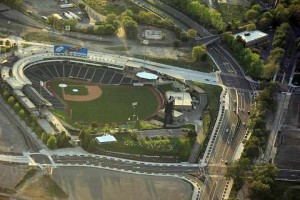 I practically grew up on Wrigley Field. Many summer days were spent watching those 1:15 starts on channel 9. The ivy against those bricks is still one of my favorite sights.
When we weren't watching the games, we spent the summer days pretending we were those players. The sounds and sights of the game still thrill me.
There are many stories of professional players talking about how they would spend hours throwing a ball against a wall or playing in the local lot with friends dreaming of being in the big leagues until they made it. For every one of those there are thousands of kids that did the same, but never made it. I was one of those. The game still brings back great memories for me. I still have the old glove that was my father's when he taught me to throw. I recall Billy Williams going up the wall and leaning over the fence to rob a home run… and me pretending to be him trying to do the same. Or imitating Jose Cardenal stealing second with that patented figure 4 pop-up slide. Many of my summers looked a lot like the movie Sand Lot.
For me, there is little like being at the park and watching a game. The smell of the field and the popcorn, peanuts and beer… the sounds of the vendors, the announcer, and the crack of a bat or the pop in a glove… the pure athleticism of a perfect swing sending one out of the yard, or the crack of a line drive and the speed that stretches for the extra base with the perfect slide that avoids the tag… or the perfect throw that gets him… or the diving catch.. or the perfect pitch that retires the side with runners on… nothing brings the peace and contentment of being at the park.
I'm a Giants fan now (I have always favored the National League) and I love the rivalry with the Boys in Blue. I have seen quite a few games at The Stick and the best days were sitting on the left field line heckling Daryl Strawberry. I've been to some games at the Coliseum and I root for the A's when I'm there. In recent years, time and money have limited most of my pro baseball viewing to the television, but I will spend a few days this summer at Raley Field cheering on the River Cats.
Truth be told, there is something special about watching how hard these kids play when they are right on the edge of making it to the Show. See you at the park.